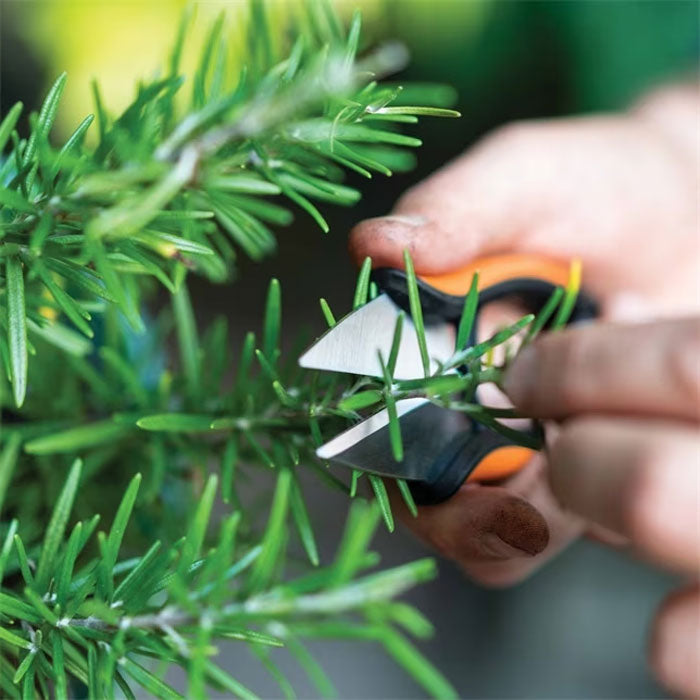 Fiskars Solid Herb Snip SP220
Accurate and handy Fiskars Solid herb scissors work with the power of the thumb and forefinger, guaranteeing better control. Scissors make it easier to handle edible and decorative herbs, plants, and vegetables.
The blades made of stainless steel guarantee a neat cut mark and remain sharp even under heavy use. Sharp-tipped blades offer better control when working in tight spaces. The Easy Action™ suspension automatically opens the blades after cutting, reducing hand strain. The scissors also have SoftGrip details that increase comfort.

Scissors can be washed in the dishwasher, which keeps bacteria away from food and different surfaces in the home. The blade guard makes storage safe and protects the blades from damage.


Features:
The precise and easy-to-clean Fiskars Solid herb scissors are the perfect tool for harvesting and handling herbs, flowers, vegetables and fruits

The hardened, precision-ground blades are made of stainless steel and remain sharp even under heavy use, guaranteeing a clean cut mark

Sharp-tipped blades offer more control when working in tight spaces

Easy to use with thumb and index finger

The Easy Action™ suspension opens the blades after cutting and reduces hand strain

The blade guard makes storage safe and protects the blades from damage