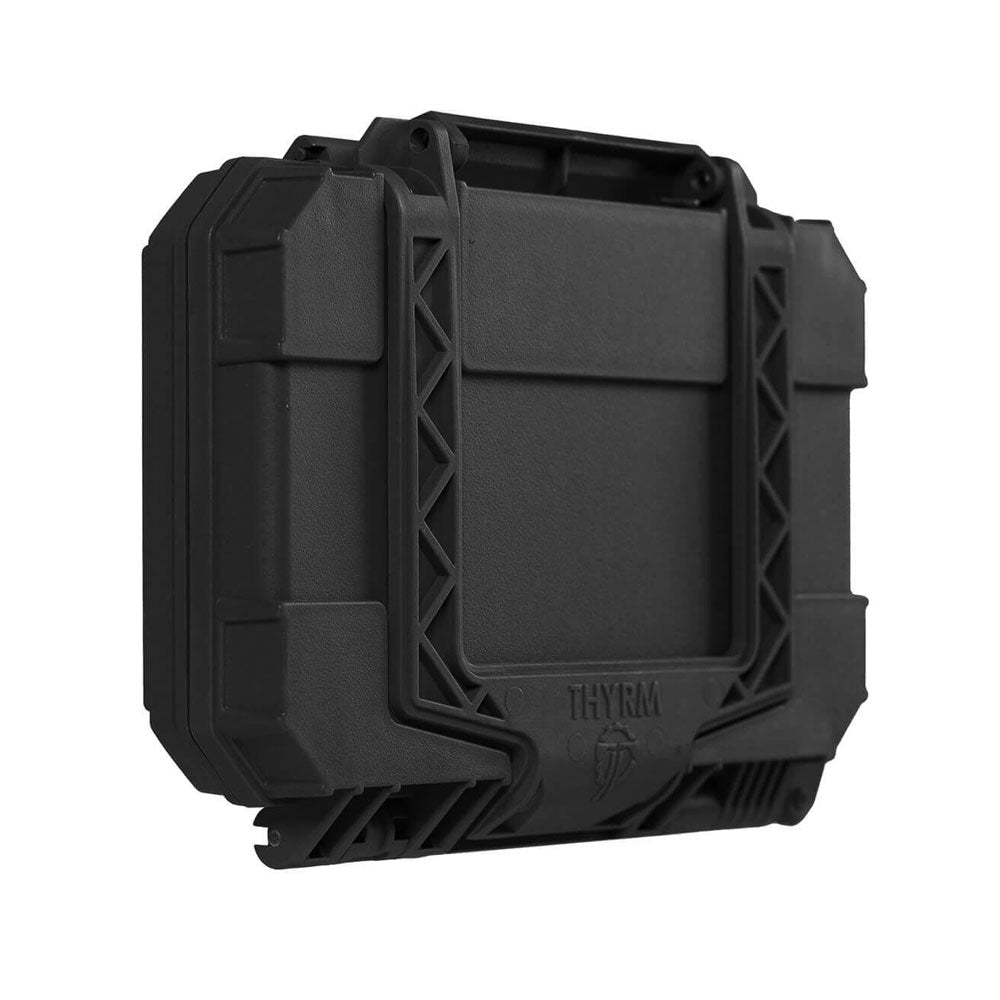 Thyrm DarkVault Blocking Critical Gear Case (Black)
Pickup currently unavailable at Penang Showroom
Thyrm DarkVault Blocking Critical Gear Case (Black)
Penang Showroom
Pickup currently unavailable
74F, Jalan Siam
10400 Georgetown PNG
Malaysia
+60194741337
This version of Thyrm DarkVault is equipped with proprietary signal blocking capabilities that protect the gear you rely on to complete the mission. However, DarkVault cases are not rated for prolonged submersion or diving.
Designed and made in the USA.

Features of DarkVault (Blocking) Cases:
90+ decibels of signal reduction between 300 and 1500 MHz to block standard cell tower, GPS, and other signals.
Note: Higher frequency WiFi/Bluetooth (2.4GHz and higher, including WiFi Calling) are not consistently attenuated.
GPS and Cellular signal blocking polymer construction
Solid, battlefield-grade construction
Gasket seal that keeps out water, dust, and dirt
Quick MOLLE attachment system for external and internal mounting options
Tunable hinge friction for on-body navigation and communication tasks
Strap/latch holes for locks and tamper-evident devices to prevent access to internals and secure case to MOLLE
Internal and external adhesive-backed loop Velcro® panels for ID and organization
Case dimensions (inches):

7.2 x 5.43 x 1.67 DarkVault with mount (exterior)
6.70 x 3.95 x 1.15* DarkVault interior (*maximum depth)

How the DarkVault Blocking case works (and how it doesn't):
The proprietary material used in the DarkVault acts like a Faraday cage, reducing the ability of radio-frequency signals to pass through the DarkVault in either direction. The case has been tested to reduce the signal (between 300MHz and 1500MHz) by at least 90 dB (decibels). This is generally enough to block normal cellphone calls and data, and also block GPS signals. This reduction meets the specifications of our government customers.
However, signal strength and your proximity to it play a role in whether or not your electronics can be reached through the case. Very strong signals may still interact with your devices, for instance, if you are in close proximity to 1 or many cell towers in a dense urban area, it is possible that signals may occasionally make it through the case.
Creating a case that blocked all signals at all frequencies was not the design intent for this product, and would have meant the case would have been extremely large or extremely metallic. Please consider this information when utilizing your DarkVault.


See in the official website: https://thyrm.com/product/darkvault/