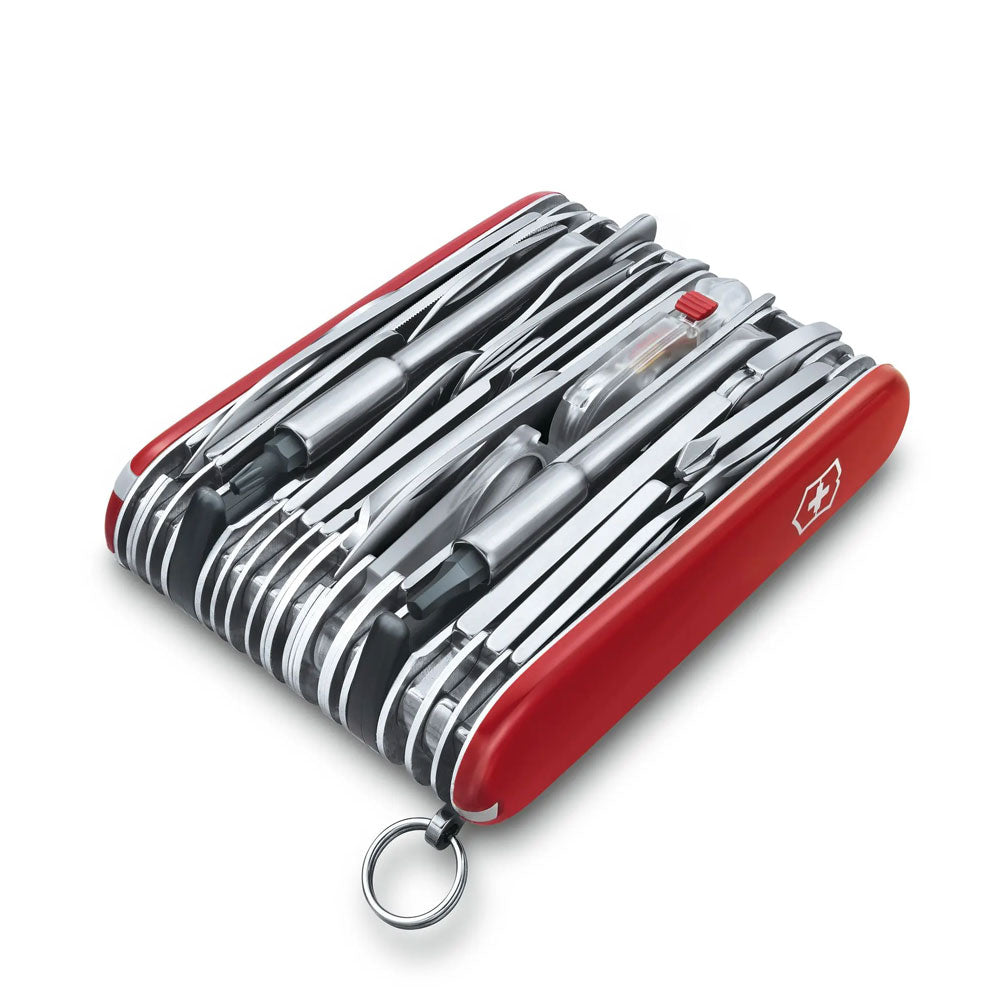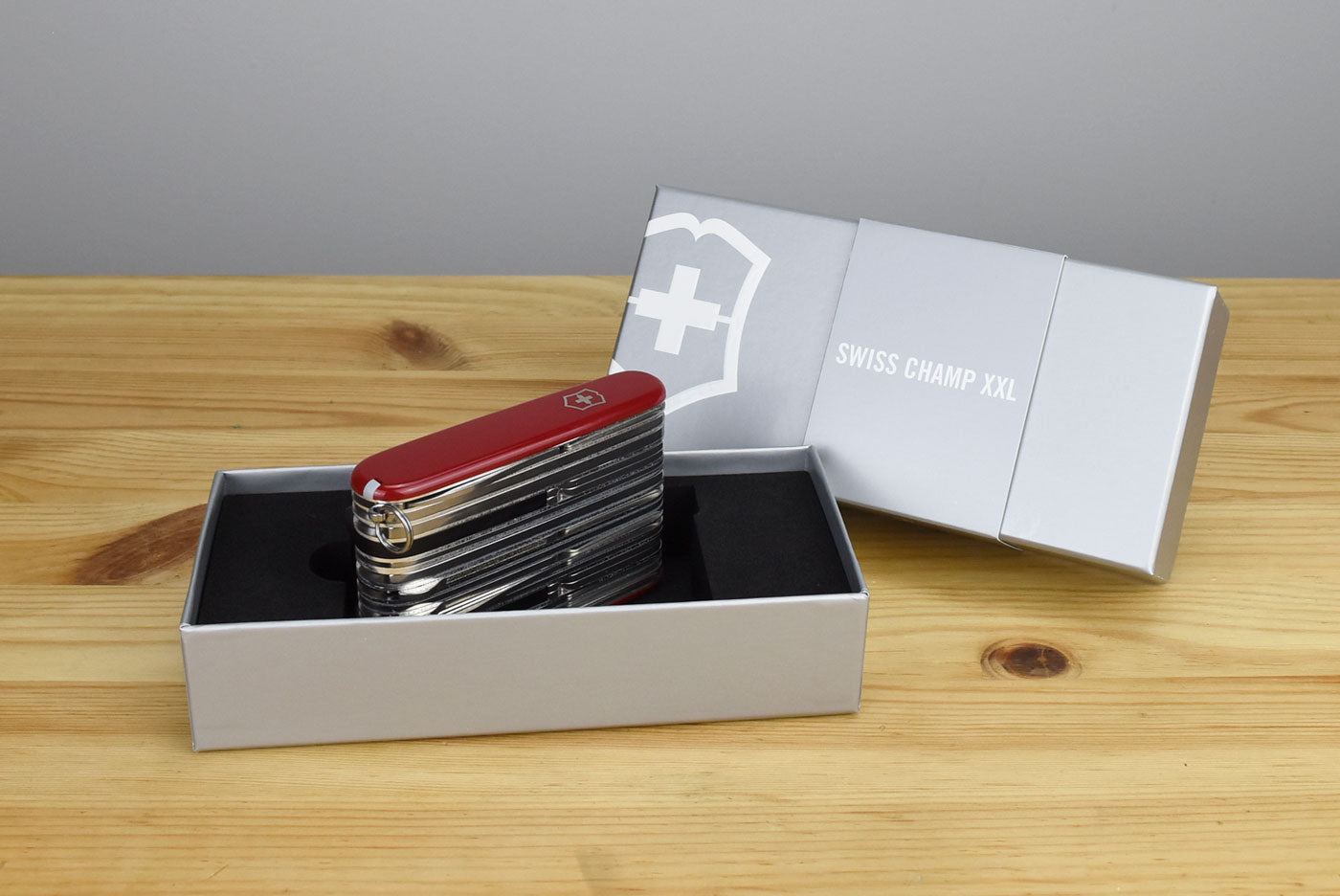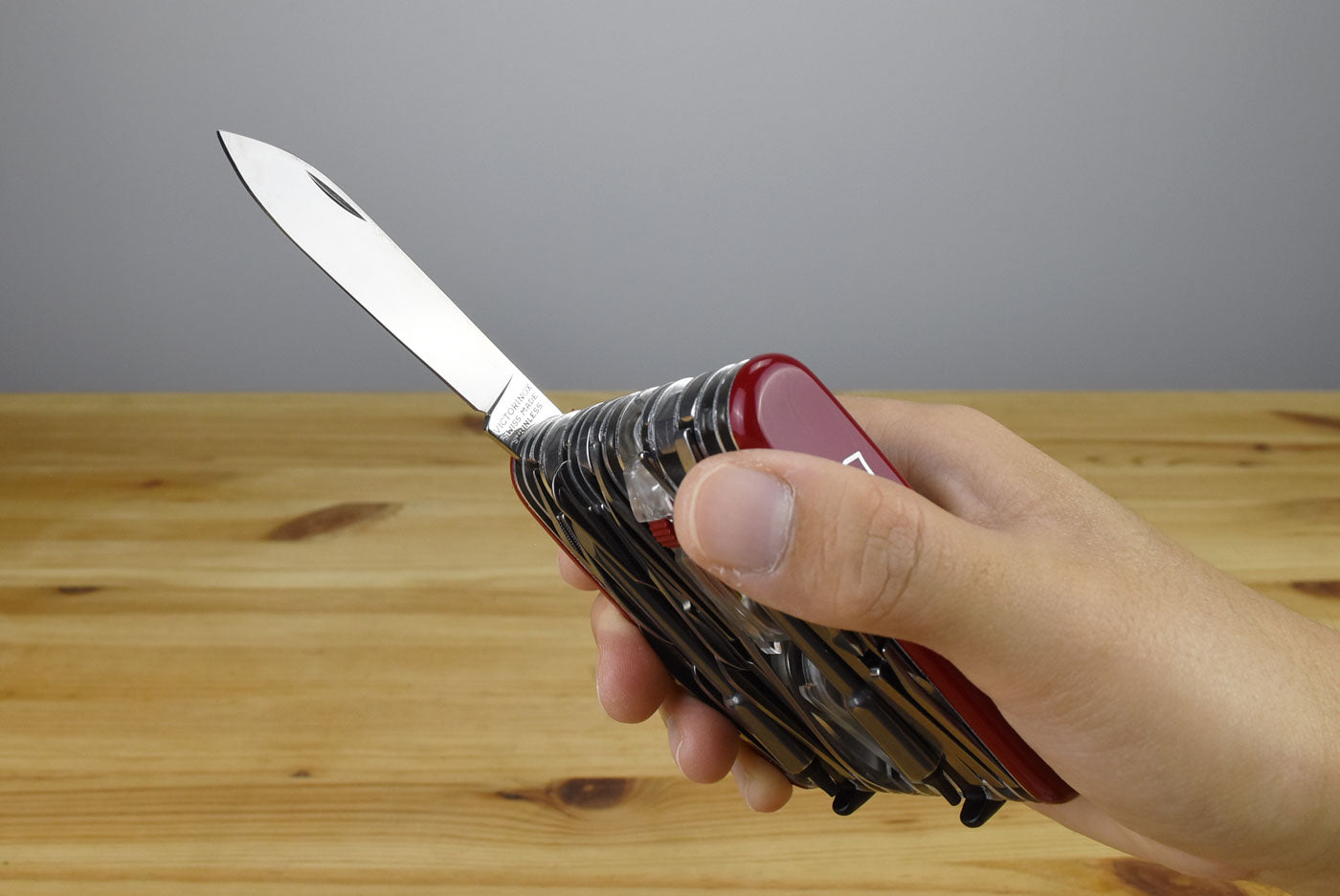 Victorinox Swiss Champ XXL Multitool 1.6795.XXL (Red)
Super practical and a class of its own: meet the Swiss Champ XXL, a powerhouse among pocket knives. Armed with 73 functions, this knife can handle anything. Each piece is meticulously hand-assembled by skilled craftspeople to ensure optimum quality. This is a reassuringly solid yet surprisingly portable companion for outdoor challenges from fish scaling to metal sawing, as well as minute indoor tasks such as simply filing your nails. A perfect collector's piece. 

Swiss-made pocket knife with 73 functions. 


Features:
Pressurized ballpoint pen
Bottle opener
Can opener
Screwdriver 5 mm
Wire stripper
Screwdriver 6 mm
Wire stripper
Reamer, punch
Electrician's blade
Wire scraper
Phillips screwdriver 1/2
Toothpick
Tweezers
Scissors
Can opener
Screwdriver 3 mm
Blade, small
Pin
Magnifying glass
Multipurpose hook
Bottle opener
Can opener
Screwdriver 5 mm
Wire stripper
Screwdriver 6 mm
Wire stripper
Fish scaler
Hook disgorger
Ruler (cm)
Ruler (in)
Combination pliers
Wire cutters
Wire crimper
Wood saw
Pharmaceutical spatula
Keyring
Nail file
Nail cleaner
Metal saw
Metal file
Bit case
Watch opener
Blade, large with wavy edge
Screwdriver 2.5 mm
Chisel 4 mm
Bit wrench
Female Hex drive 5 mm for D-SUB connectors
Female Hex drive 4 mm for bits
Female Hex drive 5 mm for D-SUB connectors
Female Hex drive 4 mm for bits
Universal wrench M3, M4, M5
Pruning blade
Reamer, punch, and sewing awl
Blade, large
Bit case
Blade, large
Multipurpose hook
Mini screwdriver 1.5 mm
Corkscrew
Bit wrench
Female Hex drive 5 mm for D-SUB connectors
Female Hex drive 4 mm for bits
Female Hex drive 5 mm for D-SUB connectors
Female Hex drive 4 mm for bits


Specifications:
Height: 62 mm
Length: 91 mm
Width: 28 mm
Weight: 353 g 
Scale Material: ABS / Cellidor 

Package Includes:
Victorinox Swiss Champ XXL Multitool 1.6795.XXL (Red) X1


See in the official website: https://www.victorinox.com/global/en/Products/Swiss-Army-Knives/Medium-Pocket-Knives/Swiss-Champ-XXL/p/1.6795.XXL